What We Do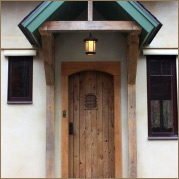 GENERAL CONTRACTING

From award-winning historic restoration to the construction of new, ecologically-sustainable and healthy homes, we are committed to tightly-managed projects and accurate budgets. As a custom home builder, Lithic's diverse portfolio ranges from the rustic hut to the contemporary remodel to the full craftsman house with stonescapes and outdoor rooms. We use best-building practices, including passive and active solar, rainwater collection, bio-based insulation, and sustainably-harvested Virginia hardwoods, to name a few. Consultation and design services are available.

View General Contracting Gallery >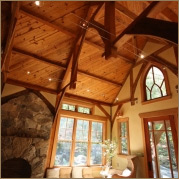 CARPENTRY

We are equally comfortable building a traditional timberframe house, steaming and bending a custom stair rail, or fitting low-profile casing into an energy-efficient new home. In addition to new dwellings and home remodeling and kitchen remodeling, we design and build pergolas, outdoor spaces, outdoor kitchens, and provide weatherization and insulation upgrades. We provide fine woodworking, can mill materials on site, and offer custom shop work.

View Carpentry Gallery >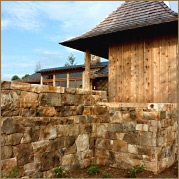 MASONRY & STONEWORK

We do structural stonework of any dimension, boulders, fireplaces, chimneys and mantels inside and out, Russian stoves (masonry heaters), stone stairs, new and restoration brickwork, and traditional stucco. We build retaining walls, dry laid stone walls, natural stone walks, stone patios and brick patios, hardscapes, water features and water gardens, outdoor rooms and spaces, grave markers and monuments. We provide masonry consulting and masonry design services.

View Masonry Gallery >

PAINT & FINISHES

We offer the full gamut of painting services as an exterior painting or interior painting contractor. We provide meticulous site protection and specialize in restoration solutions, with an emphasis on healthy/low-VOC paints and paint products.

View Paint & Finishes Gallery >

SITE WORK

We attempt to recognize all elements of the landscape that might be threatened by the construction project, and proceed to disturb them as minimally as possible. We practice plant rescue. We identify and use any materials generated from within the zone of inevitable disturbance. We also encourage permaculture principles including proper building orientation, rain gardens, and soil conservation.

We serve Charlottesville, Albemarle, Scottsville, Ivy, Keswick, Gordonsville, Central Virginia and beyond.
We have experience with MCS (Multiple Chemical Sensitivity).

Members JRGBC (James River Green Building Council), Masonry Heater Association of North America, and The Timberframe Business Council.